Hi I'm AGP
I have noticed the experience and kindness of this forum. Truly impressed. See intro thread if ya choose.
Really high on Blackberry Bread atm and it is only somewhat functional. But it packs a velvet hammer to my dome. And I can type like a madman on this fine herb (even though stuck to a chair) lol
Glad I got all the important work done yesterday. I did a half-assed clean on my 5X5X7 grow room, moved out the led, installed a new 6" exhaust fan and transplanted the rooted seeds to solo cups. And put them under 2 bulbs of my 8 bulb t5.
This is a grow for flower for my wife and self. ?
-
One of the favorite smokes was called Chocolate Cheese. A fem. release 6 or so yrs back by Eskobar at Sannie's shop. Wish I had kept a clone 5 yrs ago when I ran her.
Enormous medium density colas. The smell was sweet, funky, fruity, cheesy and delightful. Taste wise she almost matched the smell and had the mouth coating cheesy taste with a chaco front end and a raspberry aftertaste.
Two or three hits brought a euphoric, everything's awesome kinda High. Like an antidepressant almost. Really feel good herb.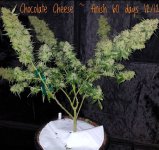 Growing some this round of the Chocolate Cheese crossed with "Cheetos" which is (Cheese X Sour Diesel) made by Santero.
I just started a few seeds 3 1/2 days ago. These are in solo cups now.
GG4 X Sunshine 4 X 5
By Bad Dawg
I really love GG4 and have heard good things about Bodhi's Sunshine 4. Also, I've been quite impressed with the couple of Bad dawg's creations I've grown.
Cherry Kool-Aide X 5
By Freak Genetics
Very freaking impressed with Frim's work. I enjoy the Blackberry Bread and can't wait for these.
Velveeta F1 X 5
By Hazeman
Gotta have some ?y stick-to-my-tongue flavor
Froot Salad X 5
By Santero/Sanseeds
Chocolate Cheese X Cheetos
Lots of Cheese, some chocolate and some Sour Diesel. ?
Gg4 ril bagseed X 1
found in a mature female preflower
Midsicle S1 Fem. X 1
Dino Party
Expecting mids or better... Gonna get dino-fried.
Hairy Legs Fem. X 1
Dino Party
Has Triangle Kush in it, sounds dank af
Citrus Milf Fem. X 1
3Thirteen Seeds
This is gonna be a good one for sure.
Dieselicous Fem. X 1
Freedom of Seeds: I don't know this breeder, it is as attitude freebie. I thought Diesel and GDP a good combo.
Balefire Fem. X 1
Katsu Seeds
Oreoz X Platinum Kush
Expecting Purple sheets of fire and resin rails from this one that will nearly burn through my garden. Am I expecting to much? ?
C99 Fem. X 1
Blimburn Seeds
For the better half. I've enjoyed the real deal F3 and F5s from original Grimm stock. I just don't know how this could compare.