Hello everyone
I'm happy that this place has been created. I've been growing 3-4 years and I love growing a variety of strains. I'm in a medical state and I grow for IBS, PMS, and PTSD. I'm on a quest to find the strains that help knock me out at night, settles the stomach in the morning, and then a strain that allows me to be outgoing/creative without messing with the anxiety. I definitely prefer smoking fruity tasting strains but find that they lack potency so I'm always mixing strains together. I'm not that chatty/social but I'll do my best to not just like things outside of this journal but no promises.
I WILL BE UPLOADING FULL PICTURES AND NOT ATTACHMENTS, SORRY B
Currently running a 3x3x6 with a 240w china QB and a 2.5x.2.5 with a 135w HLG QB; both tents have been flipped to flower. I have 2 Bridezillas, 1 Lucky 7's, and a Banana Orange Daiquiri in flower in the 3x3; the City Slickers were both boys
I have my accidental chuck of Dosicane in the 2.5x2.5. They'll be the main focus in the beginning of this journal.
Dosicane is the result of a Dosidos #22 bagseed being pollinated by Slurricane F1 hermie. I love Dosidos #22 but not enough to pay $200 for a pack so I had to plant these.
3 Dosicane are in 1.5 liter pots filled with coco and perlite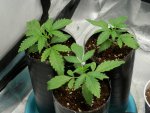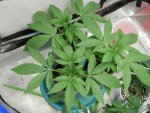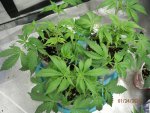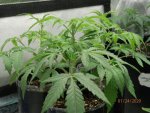 One week since flip to 12/12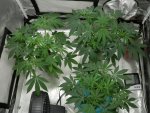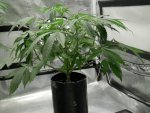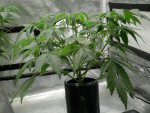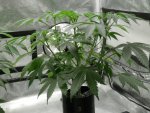 and I built a scrog two weeks too late