Hey everybody!!! Starting my second season woooo! I ended up with a bunch of seeds from my last grow aswell as buddy been saving them for me. Right now I have 2 strains going one is a bubbakatsu x blueberry x a mystery
(maybe itself who knows lol) then a rebel og x a mystery. Then I had 2 seeds out of a couple ozs of game changer, one of then was smaller and whiter, fingers crossed becuase I was a fan of that. Aswell as 2 seeds I had in my truck that was fat as hell, biggest seeds I've had so far. I just dropped them the other day and they started popping out this morning. Also had a couple odd looking plants at first but there growing out of it. I'm at 3 lights right now but going to pull the blurple for a veg tent soon. Also my cmh I dont run untill flower. But recently bought the enfun 2k wich is 2 "1k" leds. So far I'm impressed. There is still some cooling issues in summer but ima go larger on passive intake 2 16x25" filter boxes to go in the wall. Hoping I can then close door all the way without a vacuum. Aswell as not running my exhaust 24/7 always pushing that hot air in with the cold air was a rh nightmare. Looking for a intermittent timer like run for 2 minutes every 10 minutes or something. Maybe not even that much. I never experienced mold even with high rh but there is always one hell of a breeze in there. So hoping that dont turn around and bite me in the ass by slowing it down. But even when I'm not exhausting if the ac runs it is so I figured it be fine running it less.
April 5th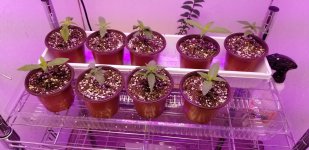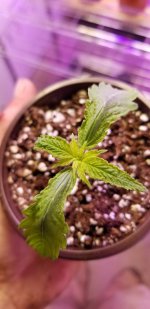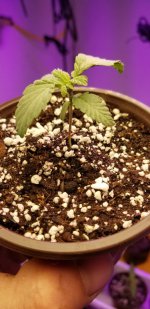 Today April 9th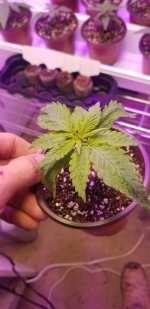 Ol wrinkly is starting to perk up, no clue what its problem is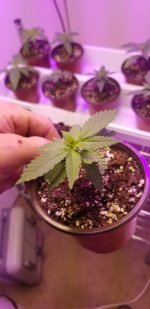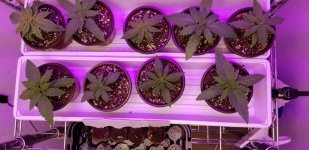 So this was the seeds at 8 am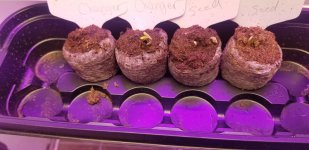 And at 230 PM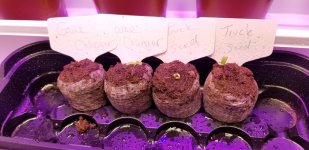 I fucking love progress
So far all has been good besides I tried starting some seeds in January and pretty sure I figured out what damping off is. Not to bad of a loss besides all 4 of my birthday cakes was part of that....good ol live and learn moment.