@SCJedi
I will post a link from your journal
Good day, Monsieurs and Mademoiselles. Je suis high as f@ck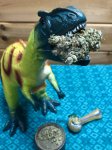 -The grind:
Watermelon, cantaloupe, lime.. all slightly gone bad in the fridge.. nailed it
the taste:
Not actually what I expected from the smell. Surprisingly earthy
juuust
a hint of the lime except now it is carbonated. Slightly bitter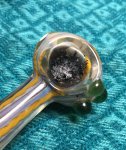 -smoke:
Not as dense of hoots as the blue berry OG x boh (only 3 hoots to get through the bowl) but most likely higher thc content. Takes my breath away a bit even tho it's smooth. Nice ash.
-
the buzz:
Almost straight sativa. Mouth is dry and I'm almost uncomfortably alert on account of it being 3 am.
Makes me feel as though it is unacceptable that I am not creating or achieving something/ being productive.
Shit chill Rom.. doing a smoke report at 3am is both creative and productive.. I think..
Anyway,
the high is mildly urgent but slow is smooth and smooth is fast..
I would recommend this as a great breakfast smoke or maybe after-lunch-and-theres-no-time-to-nap smoke.
Great deck-building buds for sure.
challenging, constructive smoke
not recommended for "kickin back and playin vids" nah bros lol. You'll be learning to play the banjo while re-evaluating your entire existence here on this rapidly spinning science experiment of a planet.
Slight burnout but not bad
schizophrenic folk or someone having a mental health related episode should not toke this one. Just my opinion (Not a doctor)
-
Fin
✌