Well I didn't think I would even want to make a seed...and then i made seeds.
I will keep my creations here so i can find them easier...and you can see what they look like. These are chucks...with great genetics and with any luck at all some of these will be pure fire winners.
I am pretty happy about this one.
Oldpack Greenpoint Lucky 7s X Purple City Genetics Super Lemon Mac X Gushers
I call it. G-7 The Summit
This was done with a paper bag with pollen in it. So be careful.. 6 X 50ml tubes. I would guess around 4000 very nice beans.
They are now in the bar fridge. Next full moon or in 2 weeks i will see if they crack and get some growing. If they work out I will have a context !
The seed mom REAKS.. Poweful offensive odor Like earthy pine kush with some weird stardawg thing...But appalachia can be a subtle fruit flavor.. That PCG is a fruit explosion.. Bud mass was really good and nice density. The main plant was about 6 oz of buds. All plant matter is in freezer for hash run.
The + between the pacs is what I got from another creation.
Bad Dawg Freebies Medical Dragon(Attonic CBD X 3 Headed Dragon) X Purple City Genetics Super Lemon Mac X Gushers
Puft the Medical Dragon. 500 to 750 good beans in the 2 tubes from a very small plant. WOW.
That pollen was from my outdoor stud...i shool him in a bag and suffocated him...left it in the garage for a while.
More strains to come i have a couple more of the Gushers creations to check...but i see a lot of hash on the horizon...and gold in them thar beans !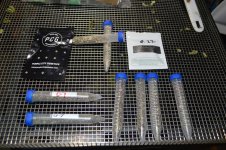 Last edited: