"Pine Tar Kush is an old indica line derived from Pakistan import that was introduced to Northern California in the early 1980's."
Run #1: @OldG - The Real Seed co.
Run #2:
@Ed Rooney
- New420guy seeds.
All seed stock originally from Tom Hill.
Seeds hit the water today.
Got a bonus seed, so 14.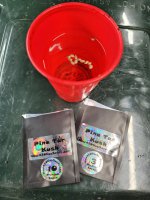 Super excited to be doing this run for the PH community, I've only been here a short while but have been welcomed with open arms and generous offers and gifts from all over. Thanks guys!