Purple Punch, from the best Californian dispensaries to the world​
From time to time, we cannabis lovers start wondering about the origins of certain strains. On many occasions, this curiosity about the origin of certain genetics comes because they have reached a high level of popularity among users, while other times it's because these strains are sweeping the board at
cannabis cups
or because we can suddenly find them in the best dispensaries or
cannabis clubs
of our cities.
Another reason for our curiosity could be that this strain has been newly added to the catalogue of our favourite seed bank. Well, this time we are going to dedicate an article to telling you more about the well-known
Purple Punch
, in particular about one of the most popular clones or cuts that have come from it, the "Alpha Cut".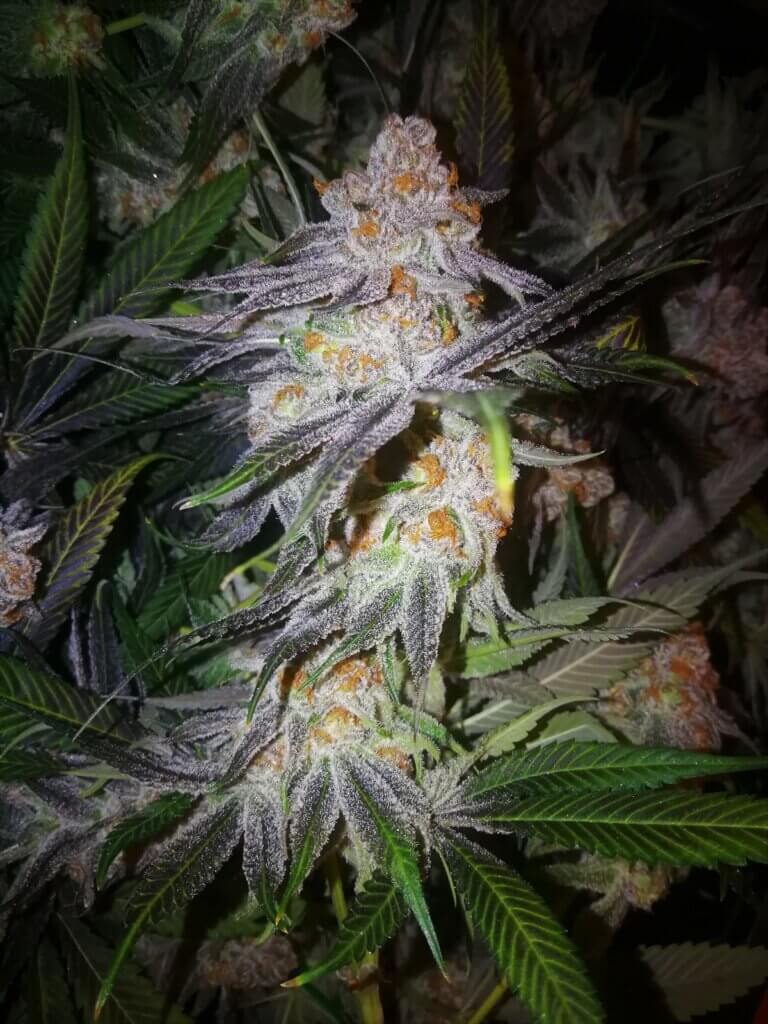 Purple Punch "Alpha cut" at the end of flowering indoors
Origins of the cannabis variety Purple Punch​
Although it was selected in 2013, it wasn't until a few seasons ago that this plant acquired the worldwide fame and commercial recognition it deserves, ushering in a new era of "Punch". For some time now, it has been gaining strength, establishing itself in the best cannabis clubs and dispensaries in most locations around the planet, to such an extent that it's rare to find a cannabis cup where varieties with
Purple Punch genetics
aren't competing.
Purple Punch was originally created by the seed bank
Supernova Gardens
, and is a cross between
Larry OG
and the famous
Grandaddy Purple
. In 2013, Supernova Gardens shared their clone with several people while on their trip to Southern California, including a grower named
Budologist
. It's worth mentioning that Supernova Gardens were reluctant to let their precious cut be shared freely among many growers, they wanted to keep it safe and share it only with people they could trust completely.
In this way, cannabis breeder
The Village
, who was already working on joint projects with Budologist, was able to get his hands on this cut of
Purple Punch
, a cut whose reputation he was already aware of, although at this stage he wasn't fully aware of the potential of the clone that they had in their possession. Everything he'd got from Budologist in the past had been really good, and this was unlikely to be an exception. Even so, he ended up being very pleasantly surprised with this particular clone.
Purple Punch "Alpha cut" in the last weeks of flowering indoors in summer
In this way, and with the consent of Supernova Gardens, the clone was now in the hands of The Village, which soon led to the popularity of Purple Punch genetics skyrocketing to limits rarely seen among
Californian smokers and growers
, although many were accrediting Purple Punch to breeder The Village.
Before long, this strain – which some other growers also had in their gardens – began to spread to more and more grow rooms, at such a speed that it even ended up reaching the world-famous commercial cannabis growers:
Jungle Boys
. The "Punch Hurricane" was already more than a reality and it was here to stay, being classified as the best variety of 2017 by the most influential cannabis publications.
In that same year 2017, and with the consent of its creators, a new batch of Puple Punch seeds was launched by Budologist and The Village in collaboration with
Symbiotic Genetics
. In this case it was Purple Punch "Alpha Cut" x (Purple Punch F2), which was shortly afterwards named variety of the year. The new Punch wave had arrived, breaking on the shore at a time when
Gorilla Glue #4
,
Sour
and
OG Kush genetics
were all at their peak.
In this way, Purple Punch found its place in the gardens of both growers and breeders, also being used as a parent in a multitude of exceptional crosses, such as the well-known
Mimosa from Symbiotic Genetics
.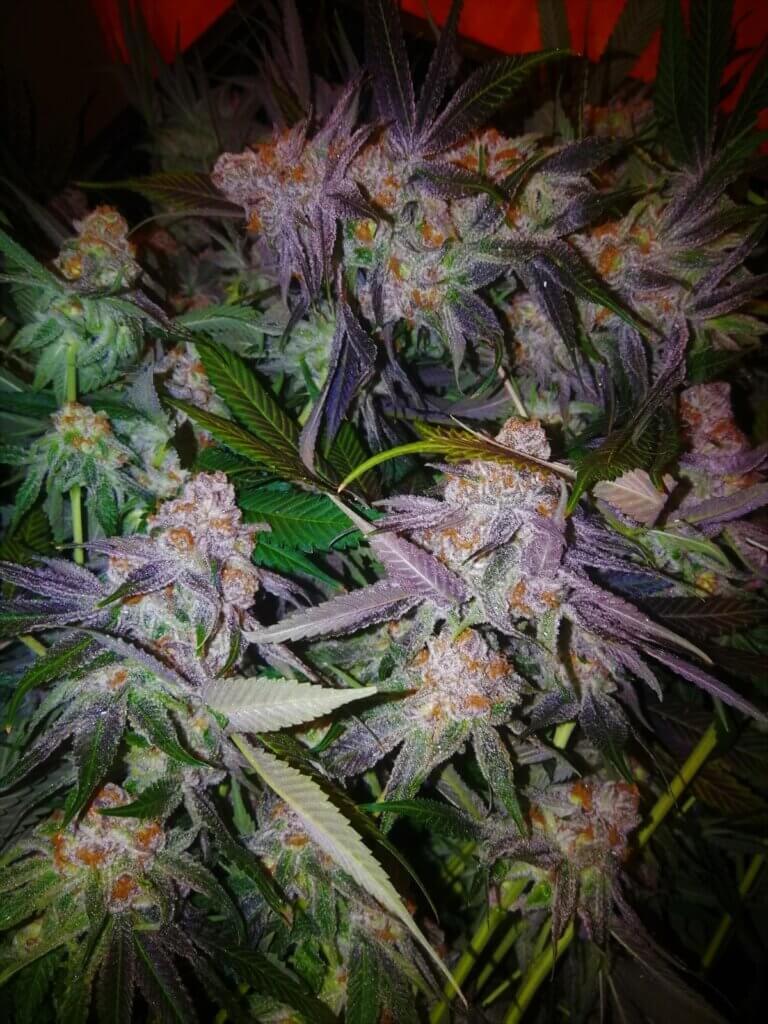 Purple Punch buds in the last weeks of flowering
Characteristics of the cannabis variety Purple Punch​
When we talk about
elite clones
, we're referring to strains that stand out among plants of the same variety due to various exceptional qualities; The Alpha cut of Purple Punch, from the pre-
Symbiotic Genetics
era, brings together many of these outstanding aspects, boasting a series of characteristics that make it very special indeed. It is a very complete and well-rounded strain, something of great value because nowadays it's hard to find specimens with so many special characteristics in the same individual plant.
This very special poly-hybrid has a mostly
Indica
influence, standing at around 80%. The sedative, relaxing and contemplative effects of Punch back this up, and just a few moments after lighting the joint, the
high potency
can be clearly appreciated. However, this effect can still allow us to work, as long as we're not doing anything that needs a state of maximum concentration. Where the lesser sativa influence really appears in this
poly-hybrid
is in its morphology/structure and its cultivation, especially (and despite its speed) in the pre-flowering and flowering stages.
It's a very rewarding plant to cultivate and it doesn't need to be cared for by expert hands, nor have special requirements. It shouldn't be treated any differently than the other plants. According to
The Village
himself on cannabisnow.com:
"Honestly, it's quite vigorous. It's not prone to powdery mildew, and it's not too dense. Basically, it's a hell of a plant. It doesn't stretch too much during flowering, and it does not need special nutrition. I don't treat her in any way different from the rest. "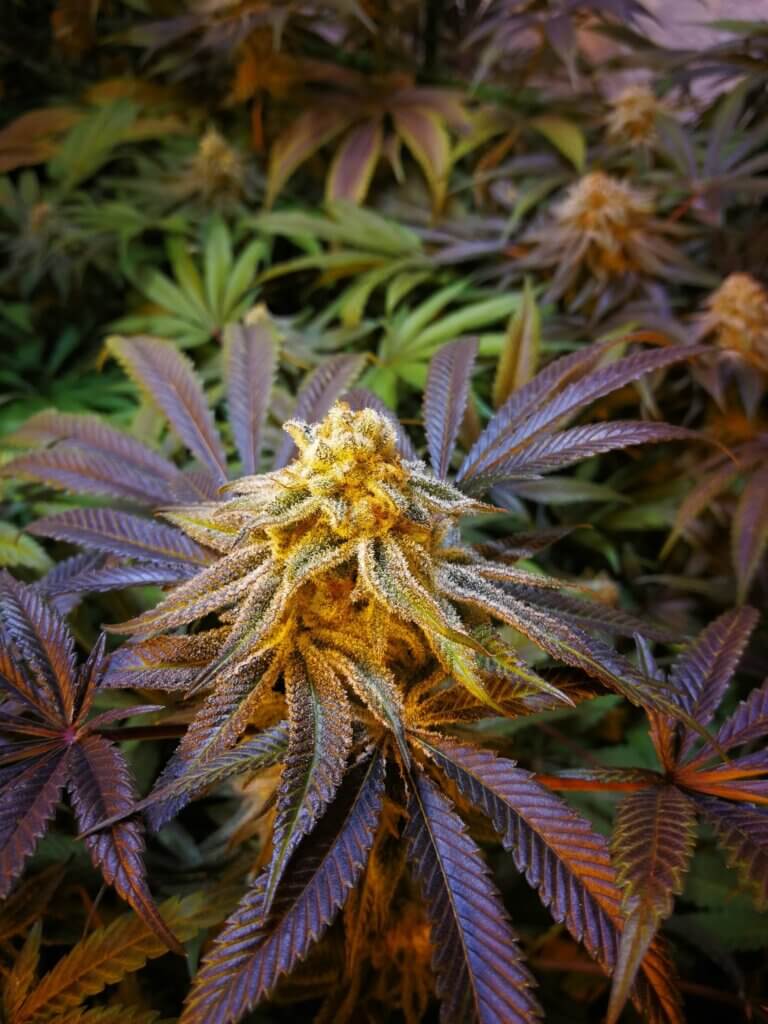 Magnificent Purple Punch bud in full bloom
You can tell that the parental genes of Purple Punch contain traces of the famous
Big Bud from Sensi Seeds
due to its great resistance during cultivation, although this unfluence isn't reflected in its terpene profile, as it does not give off the typical aromas of the Afghan/Skunk type. Big Bud is one of the parents that of the famous
Grandaddy Purple
(Ken Estes 2003), which in turn – as we know – is one of the parents of Purple Punch.
Its huge vigour leads to it stretching to more than double the size, meaning that it does not need too long in
vegetative growth
, being excellent for different cultivation techniques, such as SOG or SCROG. In fact, its great versatility is one of the aspects in which its
sativa influence
surfaces, undoubtedly due to the excellent breeding work carried out on this strain. "Alpha cut" is a cultivar that does not demand large amounts of fertiliser, and although it can tolerate some over-feeding, it prefers a more well-balanced and moderate diet.
You can't allow yourself to get distracted during its cultivation, especially during
flowering
; Before we know it, it's time to start flushing the roots, being a plant that, depending on the growing medium provided, can even be harvested before
50 days
at 12/12h photoperiod. As a general rule, it will be mature within a range of about 50-60 days maximum.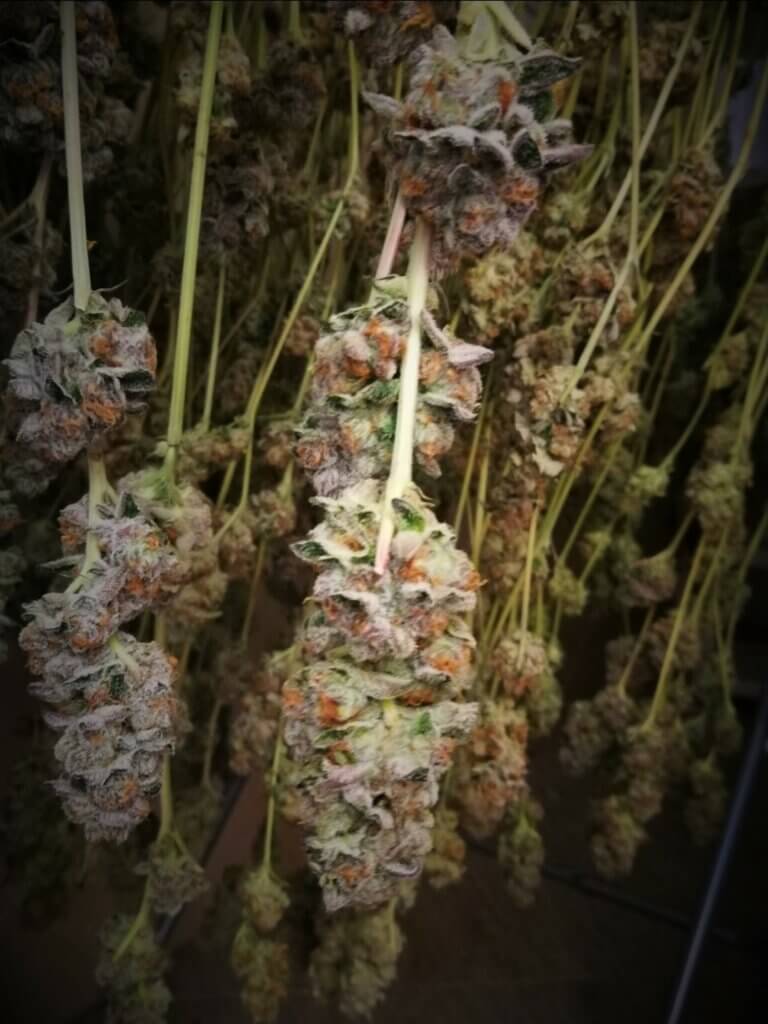 Purple Punch buds hanging to dry
Purple Punch "Alpha cut" flowers​
The buds are of
extraordinary beauty
, with a colour that can vary between blue and magenta, sometimes even acquiring reddish tones. The appearance of the flowers, with their special colours and the impressive layer of resin that covers them, leaves no one indifferent, with a large number of
glandular trichomes
that end up occupying a good part of even the largest leaves.
The
calyx-to-leaf ratio
of this lady is really good, reflected in the ease of trimming, which becomes a really quick and easy job to carry out. Indeed, the buds contain very little leaf, and the dry flower yield is more than satisfactory, being able to reach
500g per square metre
in good, experienced hands.
The
organoleptic properties
of its flowers are quite complex, and at the same time very marked and characteristic. Every cultivator who has ever put this plant in his grow will be able to recognise that special smell even years later after cultivating it. The Purple Punch standard offers us a range of
terpenes
that remind us of blueberry muffins and even takes us to vineyards where the wine, as the protagonist, goes through its fermentation process.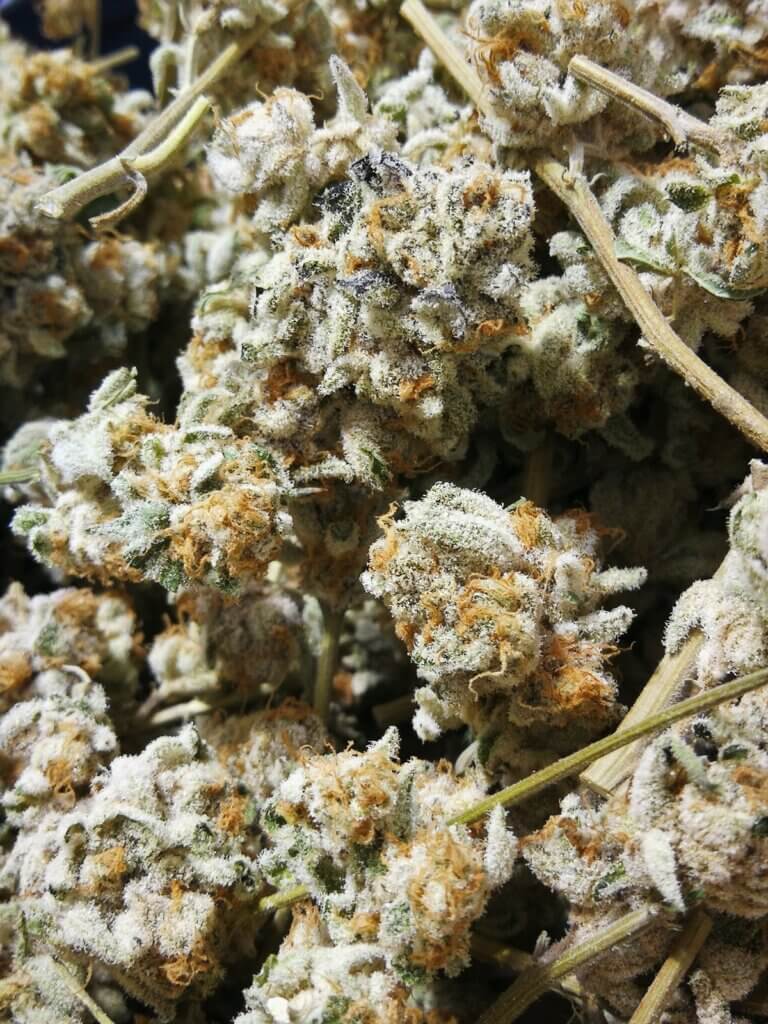 Purple Punch "Alpha cut" flowers ready to be enjoyed
Purple Punch "Alpha cut" resin​
The surprising thing about its resin is not only the large quantity that its flowers produce, but also the enormous quality of the trichomes, highly suitable for carrying out all kinds of
extractions with or without solvents
, both dry sift and
bubble hash
/iceolator). Those precious Punch terpenes are not lost to the water while washing, maintaining its organoleptic properties unlike many other varieties with
more volatile terpenes
that end up being rinsed away. Not only is the quality of the resin superb, the return is great too. It is not uncommon for it to be a favourite of many resin extraction lovers, who treasure this cut for making concentrates.
Purple Punch "Alpha cut" conclusions​
Without any hesitation, we can affirm that the Purple Punch "Alpha cut" (pre-Symbiotic Genetics stage) is a great work of breeding and selection; a resistant plant that's
easy to grow
and manicure, with early flowering, good flower yields, genuine
terpene
nuances and great returns of high-quality resin for extractions.
Beautifully coloured, fantastic-looking buds that have loads of "bag-appeal", even for the most experienced smokers, and with very different
aromas and flavours
in this era of Kush and OG. On the other hand, although no less important, it's worth mentioning that the "Alpha cut" of Purple Punch has the ability to combine very well in breeding work, providing interesting traits in the offspring of its hybrids.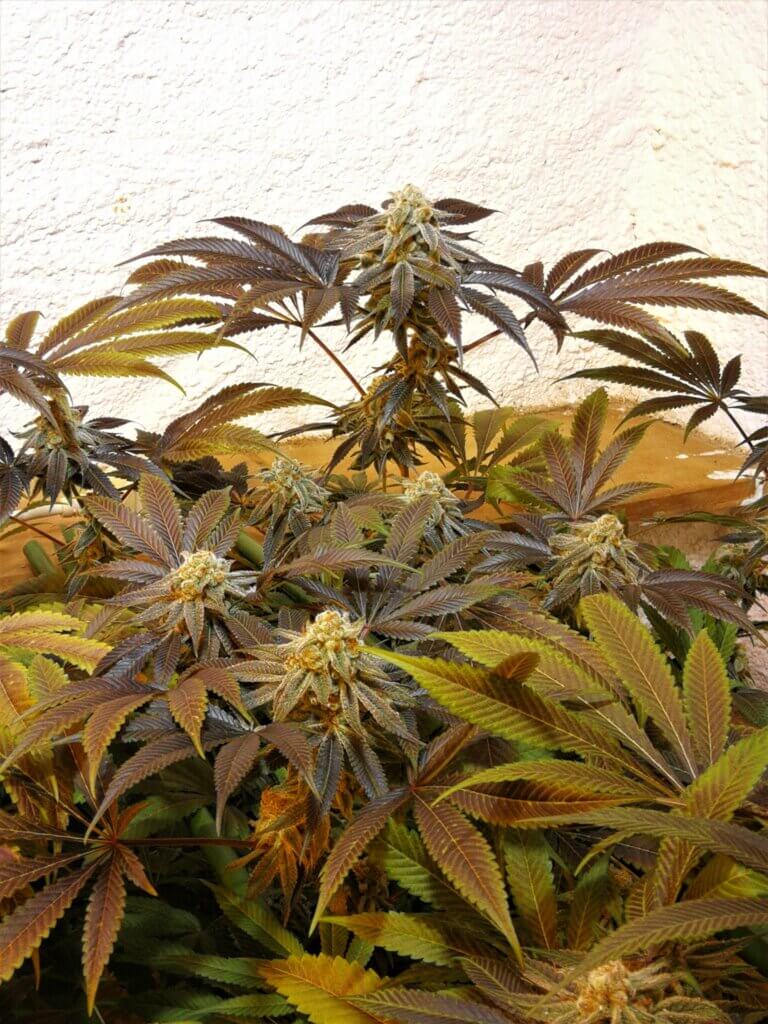 The resin production of Purple Punch is truly impressive
Indeed, whether used as a female or as a reversed female (male), in the vast majority of cases it transmits great vigour to its offspring,
shortening flowering times
and passing on its excellent resin characteristics,
high THC content
and excellent calyx to leaf ratios. It is no coincidence that this cut has been used in breeding work for a few years and continues to be used today to create new hybrids that are true explosions for the senses.
We hope that Purple Punch and its elite clone "Alpha cut" stay with us for the rest of our days, allowing us to enjoy their magnificent qualities and
high-flying effects
. Don't hesitate, put a Punch in your life!
Purple Punch "Alpha cut" feminised seeds by Philosopher seeds​
In the following links we present various different feminised crosses made with the "Alpha cut" clone of Purple Punch, a proven winner for breeding work upon which the
Philosopher Seeds
team continues to bet.
The post
The history of Purple Punch (Alpha Cut)
appeared first on
Alchimia blog
.
Continue reading...