3Thirteen Seeds
Staff member
Administrator
Moderator
Everyone has that pack (or packs) they have been ready to get to.
Im gonnna get to this pack of Bodhi "Mothers Milk" that my homie
@Schwaggy P
was gracious enough to let go of after I recently lost my Mothers Milk momma.
Talk about doing someone a solid!!
I'll also be getting to these "Blackberry Banana Kush x Long Bottom Leaf" from Bad Dawg. I grew these a few yrs ago and found a really great pheno, but failed to take clones or reveg. I asked him if there were more and found out there wasnt, but he went in his own vault to dig me out a couple packs to hunt through after hearing how much I enjoyed them! ??
I've got a few more packs (not pictured) Im planning to get to as well.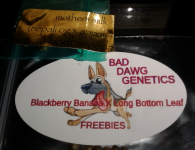 What are you gonna run in 2021??