Purple Matcha​
I would like to know if any of you have grow this cross?
The profile says: Purple Matcha by Humboldt Seed Organization is a private reserve elite strain created from the most famous California variety in the last decade which elevated the progression of the modern global cannabis movement.
A 1st generation, uncirculated GSC selection and 3 Kings Blueberry Headband were combined to reach new heights in the realms of terpene profiles.
Genotype: 70% Indica / 30% Sativa
Outdoor Harvest Time: Mid-October
Cross: Sherbinkski's Uncirculated GSC X 3 Kings BHB Outdoor Yield: 3000-4000g/plant
Suitable For: Indoors and Outdoors Outdoor Height: 2-3m
Indoor Flowering: 60-65 Days THC: 20-25% CBD: 0.1%
Indoor Yield: 450-550g/m2
I've read that it has resistance to Botrytis & PM, this alone & the 3000-4000g per plant capability has me thinking :
LETS GROW SOME TREES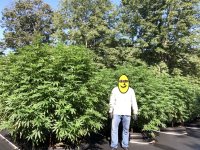 I'm not sure I
posted in the Wright Forum
move if nessasary