Good to get together here with a new grow community. HI everyone.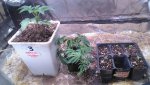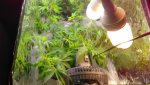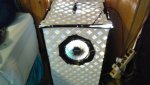 I'm new here from another site but was told this was the shindig for cross pollinators. Crossing strains is also something I'm diving into for the first time. I skipped introducing myself and dragged my grow project info here to Grow Journals.
I'm using a 2'x3'x5' tent, a 19"x19"x2' lattice box, a full spectrum FSGTEK 1500w COB LED, 4x CFL bulbs, Roots Organic Soil, and FFOF nutes.
In the pictures are 2 Scoop(males I think) clones,( 5) Blue Magoo x Hyper Cherry Pie seedlings, and a mysterious blueberry scented strain which I call Mystery B. The oldest plant I have was started in Jan. 31st and it is now a cut up 2 Scoops mother or father plant.
Last edited: