It's smoke report time.
@SCJedi
lemme know if you want this on your journal also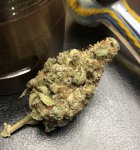 im getting a wine, Sweet kusky smell on the grind. VERY dense nuggets that make a satisfying clanking sound when you shake a jar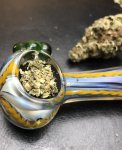 prob leans more blueberry og side. Earthy but sweet. I suspect a nice traditional raunch will set in with another week or two cure.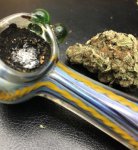 the buzz:
Relaxed but alert.
Content and comfortable but hungry.. if there's nothing in reach that's easy/microwaveable, then f@ck it.
It's warm embrace is nostalgic and focused. A well defined high. Centred
Eyeballs are straight blasted but no loss of motor skills.
Paint night weed but careful not to start drooling or piss in your pants.
Awareness of everything that can consume you on a normal basis but at peace with it.