Cannabis Chaotician
Staff member
Moderator
So I figured I'd share my experiences with this... I was looking for a new chillum and was surprised how few places seemed to have them, so
@AlienAthena
suggested I check out
Online Headshop | Bongs, Dab Rigs, Hand Pipes | Brothers with Glass
...
In perusing their site I saw they had a section of mystery boxes, and I'm a sucker for a good mystery. You can choose a flower or concentrate box and a price tier... $50, $100, $150 etc... the reviews were pretty good too, with people saying they got all kinds of stuff, and you can leave a note if there's anything you specifically would like to see...
I decided to go with the $100 tier and actually had a 10% off coupon... S&H was super reasonable too
My box arrived today and here's what it contained...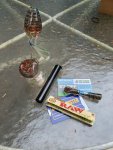 At first I was a disappointed, the papers and tube are clearly just throw ins... but upon further inspection, it actually appears to be a pretty good deal, and it was fun to unwrap everything... both pieces are made in the USA by Chameleon Glass and are nice, heavy, thick glass, and the bubbler has a pretty neat down pipe (though maintenance may be a PIA)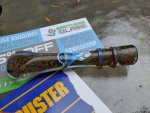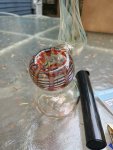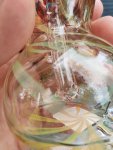 And the value was definitely there... these two pieces would sell for about $120 purchased individually...
All in all, not blown away per se (get it? Blown? Like the glass?...) but still quite happy with my purchase, and I will almost definitely buy from them again