Not naming any names but somone strongly suggested that I start a journal. In thinking about about it, it sounded like a good Idea. I can at least track my grows and get real time advice along the way. I'll use this journal to document both indoor and outdoor grows, and other shit like tinctures, creams, edibles and maybe some vegetables too. But mostly growing stuff.
A little background, I'm a veteran of outdoor growing but currently finishing up my first indoor grow. I purchased a 5'x5' tent from craigslist and some QB132's off of amazon. Since it is chilly in my basement, I added a small ceramic heater. I'm using a F&D setup inspired by
@HydroRed
and feeding with Masterblend nutes.
Here's what going on in the tent:
I'm currently running a bunch
@SCJedi
's cuts. I've got some Bodega Bubblegum x Nigerian Sunshine, Blackwater X Nigerian Sunshine and Bodega Bubblegum F2
Here's some pics at ~day 56 at 10/14
BB x NS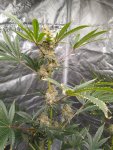 Another BB x NS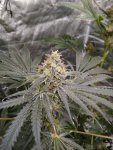 Bodega Bubblegum F2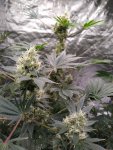 and Blackwater x NS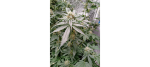 They all should finish up in the next couple of weeks. I've got a lot of tip burn from running my ppms too high.
These just got wet on 4/20:
From @sparrowhawk420, LVTKxGoofy Grape and Purple Komodo(Blue Iguano x Fat Purple)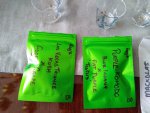 From
@Phylex
(GK Gentics), Ground Pounder and XFiles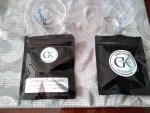 From
@Rosinallday
, MACx DLA5 and MACxAAW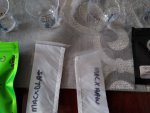 That's it for now. I'll try to do an update on a weekly basis.
Stay safe and keep growing.
Last edited: