More commonly now know as Hz.
I stole this to illustrate something,,,
,,,
One cycle, specified event, is measured 1 second in time which equals 1 Hz. As the CWNA mentioned, "alternating current is defined as a single change from up to down to up, or as a change from positive, to negative to positive"
Example 2 - (5) Cycles
Five cycles, specified events, measured 1 second in time which equals 5 Hz.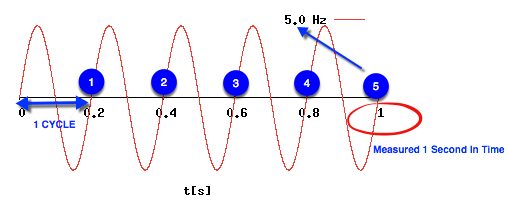 We are dealing with simple math - 1 and 5 cycles per second. Imagine for a moment 2,400,000,000 / 5,000,000,000 billion cycles in 1 second. Thats a lot of cycles, eh ? That is the number of cycles 2.4 GHz and 5 GHz (WiFi) uses to transport data from one radio over the air to another radio."
And that , my friends, is why you don't register wiifi as sound. You cant think that fast
I like waves coming in 20-55 Hz. They are more fun. There is higher spl around 130 hz , but I like the nut buzzers.
Carpet worms
Brown notes
The devils chords
Have you ever wondered what would happen if you plugged a driver directly into the wall mains?
Is predictable.
60 cycles per second right? I know that note well.
Is it possible?
Yes
Volts x amps is watts.
Square the voltage over resistance.
????
You can plug an 8 ohm sub directly into the wall, provided it can eat about 1600 watts.
If you would like to try this at 2 ohms- prepare yourself for a 6000 watt explosion.