Hola mis amigos
Glad to be here, nuff said!
This thread will be pics and general bs about all things bud. If anyone needs anything just ask, someone will fill you in the best we can.
I'll post up personal chucks and seed/clone runs but wont discuss anything outside of pm that violates TOS in anyway. All I ask is no drama, all feedback is welcome good or bad but no drama.
Now as for fire, I present the lvtk crosses. I'm really digging what she brings to the table as a pollen donor. Every plant except for the 1 c99 x lvtk is frosty with the big resin heads like momma/daddy lvtk. So far the black dog and dynoberry cross smell just like moms, blackberry and the other grape gum.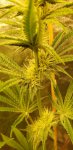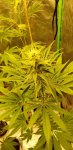 Then there is
@Gwheels
grown albino Boogieman (you know but with a vagina) boogie momma sounds like a dancing hippie and I want the scary boogie man image but like G was saying it sounds weird calling the men. But scary so Boogieman but just picture it being a woman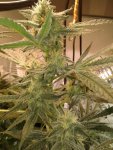 Cheers everyone