Who else loves the dark stuff?
I'm about to throw a match to this little doobage, 1/3gram Grand Reserve Afghani hash, 1/3 gram Unicorn Hunter premium domestic Black hash, and half a gram of my spiked punch flower.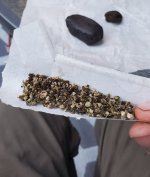 I've made a lot of hash in my day, but nothing beats good Afghani or Moroccan hash. The real shit. Worked over heat by hand with a splash of tea..
It's like opium..
Domestic is the half oz + chunk, import is the 8th. Both are just deadly and so much better than any other concentrate form imho. I'm a pure resin purist I guess..