Hey...Fellow enthusiasts of the Herb!
Sporty here, long time lurker here who has posted a few times in a Jack's thread here last year when there was some discussion. I had an invite way back from
@jaguarlax
while chatting on another forum. I came here back in 20 and regged and been looking around/reading for too long already albeit I am kind of a quiet guy anymore. A few may know me from the other place I have frequented up to this point. Also on the instagram
@sportyridr
I have only been growing for 3ish years. There has been some absolute successes and absolute failures over this period. I wish I had started growing years ago but I was too busy back then trying to kill myself from drinking. Almost succeeded in 2018, the grim reaper was close but didn't catch me. It's now been 4 years, 6 months & 2 days since I became I tea totaler weed grower hah.
I suppose I could mention I'm a Canadian living in the US the last 30ish years. I'm from a small town in "cottage country" Ontario that the band Tragically Hip wrote a song about. Don't get back much anymore and am due for a trip, maybe next year. Currently living in the Northeast US and am almost surrounded by legal states except this one and the one directly to my left so I'm still on the down low. So tired of it when I live 2 miles from state line where it's legal on the other side. Such BS as we all know.
Mostly I prefer growing Fem's but trying to love the Regs as well. Space is a bit an issue as well as the house's 100 amp service which gets a workout in the warm months with AC, Dehuey & lights etc. all going. I've been starting the next grow with about 6 weeks to a month before prior grow is harvested. The six week veg I've been doing seems to work well and get flowering started fast. I broke my current growing cycle due to the issues I had. Need to get back to it so no longer Veg this run. I am currently in a new Viparspectra 4 x 4 which has not seen a full cycle due to issues with my last grow. Keeping it all dialed in is a full time job at times as alot of you know.
I started in soil, moved to pro-mix, currently doing Coco DTW. I plan to stay with this for a while yet but will be going back to soil eventually and probably run autopots after that. We'll see when the time comes. I have some seeds I would like to try in a small scale organic run for starters but I'm scurred of bringing in the bugs. Small & organic prob not the best idea at this time.
In the last while I have made a few purchases from some of the fine breeders here and am looking forward to sharing those grows in future. I just popped some Twenty20 Mendocino for a mixed run. Hoping to avoid any stupid mistakes and make some fire.(been on a 2 1/2 month nightmare of issues from reusing my coco, hope I'm turning the corner)
I hope to get a journal going fairly promptly to show some wares...
My humble beginnings a few years back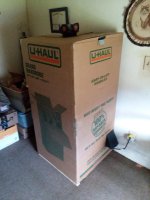 Current 4 by setup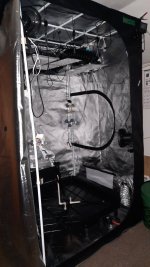 Thanks for your time....
Sporty