I will have about 40 gallons of soil after in the future, What do i need to do to reuse that soil?
I would imagine i need to sift the plant material out and i saw someone mention a 1/4 inch screen. Check ! i have one of them around and i will cut it to fit a 27 gallon commander.
Next it would probably need ammendments and to chill out a while so its not so hot.
Could i use something like this ? I have this and usually add a heaping tablespoon to things if i veg longer than 6 weeks. Otherwise the soil was enough with the odd MC at 700ppm watering.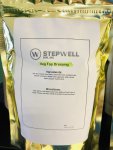 Ingredients:
Insect frass
,
fish bone meal, dolomitic lime, wollastonite, basalt rock dust, alfalfa meal, gypsum, kelp, blood meal, potash, humid acid
Directions:
Depending on plants/strains, use 1/2 tbs - 1 tbs per gallon of soil once a week. apply on top of the soil and water in.
And i have an enzyme i use on coco. Do you need that for soil too or once its dry and you take out the roots, add the top dress i can use it ?
This is new to me. I want to enzyme it up with a bunch of coco to make the needs multi feeds a day formula.