I cut down two plants last night and today I pulled the "root ball" from the pot. One had minimal roots and the dirt just fell apart and the other had roots at the bottom and a nice ring around the top, but the middle was pretty sparse. They did produce some nice, dense buds with a lot of weight, so I'm not too concerned. Just curious what I can do to promote more root growth, because I'm sure that will lead to even bigger and more dense nugs.
This is the better of the two.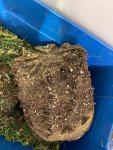 They were in these pots.