🌱🌿🌲🔥💨
Staff member
Administrator
Moderator
The top three photos with the most likes by the end of the month will be selected for a final poll to select the winner.
- One entry per participant
- You can like as many photos as you wish
Prizes
- A pack of beans courtesy of
@HydroRed
(TBA)
- A pack of beans courtesy of
@Phylex
(TBA)
- A Rapid Rooter Starter Kit with 50 plugs and tray, discreetly shipped to your door via Amazon (you'll like these folks. Along with Root Riots, another brand but are a bit different, ask me about the difference if you're curious). A part of our staff wants to show the usefulness of a rooter plug, as opposed to rockwool or other means, to help with your seedling and clone propagation needs. These plugs [any brand] are in high demand with shortages nationwide (seriously), so please bear with us if we cannot procure the exact prize listed below .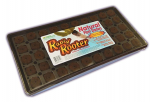 - Perhaps some more prizes?
(TBA)
We have several (very cool
) members with Birthdays this month, so let's make this one to remember. BRING IT ?