New room build, new layout, new strains. Second time running Crockett, first time running Cannarado.
Regs from Crockett- Banana pie (Banana kush x Key lime pie), Sour sunset (Ajs sour d x Sunset sherbert), Golden lemons (Kosher kush [aka Jews gold] x Lemon skunk)
Fems from Cannarado- Orange cheddar (Chemd/UK cheese x Orange cookies [Cup cut]), Sundae struedel (Sundae driver x Cherry struedel)
Room isnt quite done yet, still waiting a few more weeks for mini splits to go back to reasonable prices, (I literally watched them all climb by about $500 thru summer as demand increased), but the 8 inch can fan sucking air in from the house is keeping it nice in there.
More pics of the room later, just getting this thing started.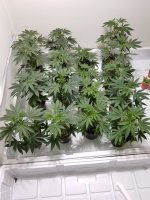 Last edited: