These are my latest creations. Shooting for over the top terps on these. I selected a really jolly rancher apple smelling miracle warp male (the MW is a
@Rosinallday
creation) and have hit him to my double dawg biscuit keeper pheno, gelato 41, jbeezy cut wedding cake, fire og, GMO, and my starchild pheno of cookies n chem. I think these crosses will bring FLAVOR to the table and am pretty stoked to see what comes out of them. Thought we could make this kinda like
@Genuity
chuckers thread and everyone can post up chucks or projects that they're working on. Love me some happy looking prego ladies. I've taken a different approach to my seed mom's lately. I run a touch higher in N with bloom boosters and micros just to make sure they're getting all the nutrition needed to be happy baby makin momma's. I also run my cobs turned down to about 40% because I don't think super intense lighting is needed to make seeds. Turn the lights down and put on some Marvin Gaye ?.
Cake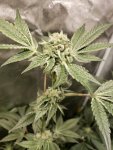 DDB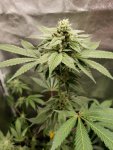 Cookies n chem (starchild)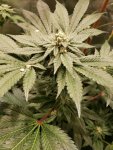 Gelato 41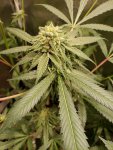 You're gonna have to hit the thumbnail to see fire og and GMO blown up, won't let me do it. GMO is one of those that quit stacking after pollination. I've seen this a few times and I'm still not sure if it's a timing issue or just how certain females respond to the pollen.