Hi all! I'm still very new to growing; this is my third grow - second in this 4x4.
All comments welcome.
Setup - Covid budget severely impacted my build out.
Week 2 of 12/12
4x4x7' tent --- Lights, Viparspectra VA-1200 Dimmable & 3 Chinese burples
FFOF / 25% chunky perlite --- bottom 1/2 mixed with Dr. Earth Flower Girl 3-9-4 full strength --- 5 gal fabric pots --- 9 plants.
STRAINS
OG Kush - Humboldt Seed Co. feminized. - 5 plants
Strawberry Kush - From a growmie of mine. - 4 plants
Problems --- 9 plants is a crowd.
I started 4 OG Kush, but only 3 popped. So I started 3 more and they all popped. -- Original plan was to manifold these as I did on my second grow, then SCROG them.
The OG didn't respond well to their first (plastic) pots, and I made it worse by topping while they were there. They recovered, and are now appx. 14" off the soil
BUT:
I had a cabinet that I started 4 Strawberry Kush for an LST grow - until I realized it was a fire hazard. So the Strawberry Kush are in the 4x4 too.
I really like the LST grow, but I need to start it later - they're about 6" tall and 18" around.
FUNGUS GNATS - infestation.
Pretty sure they came from one of the Strawberry Kush (SK) pots - that plant looks sickly compared to the others, though she's recovering well now.
Methods used - Dried out soil - diatomaceous earth - 2" layer of perlite - wiped floor & walls with citric acid / soap solution.
Timer malfunction and the lights stayed on an extra 6 hours. Next dark cycle was 12.5 hours hoping I didn't jack 'em up.
Lights are off right now, but here's some recent shots.
Group shot from a few days ago - The little girl in the 1g might get gifted to my aunt.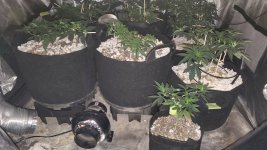 One of the LST'd plants. The "Bottom" of the plant is at the top of the picture. Cool how the Christmas tree shape looks on its side.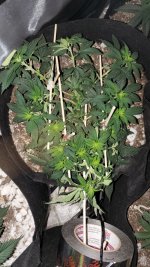 Upskirt shot from a few days ago. The main stalk got a lot of twist to it from manipulating branches to expose them to light.