Tactical Gardener
Staff member
Administrator
Moderator
Just figured I would share a cheap solution for your oils...this is the only setup I would consider using because its technically "coilless" there is still a heating coil, but its below the quartz deck...no red hot metal roasting all these wonderful terps you dudes grow... this works best on any mod with a dna chip using tcm - temp control... but will run at 30w roughly with most mods that you might have for your e-cigs....I have seen some mods with preheat also... but not this particular aegis... this is nice because its only one 18650 battery and waterproof... I WOULD NEVER USE THIS WITH A UNREGULATED MOD... don't want to see any of them dumb ass stories on here... but this is super efficient... I can break down a distillate cart and it will last me what I consider to be a long while for 1000mg... works with hash and rosin great as well...under 50 bucks with the glass bubbler option shipped... which I already broke... tbh tho replacements are cheap and the other mouthpiece is just fine...
View attachment IMG_2335.MOV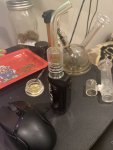 If you are using it right, your oil shouldn't burn... this is halfway through a sesh... when it does it's relatively easy to clean with some iso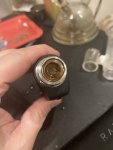 this site has a bunch of dope mods... all under 50 bucks...
Our box mods feature top-selling vape brands at prices found nowhere else. From mech mods to temp control mods, dna chip mods, squonker mods & more.
www.eightvape.com
shipped without extras is under 30 on this site... i havent burned a coil out yet but I got a couple replacements and I tried the different glass piece.. fail...
heres the only video on it I could really find...
Last edited: