Sup ya'll, tag is pronounced RJ, found this forum browsing the sales on DC Seed Exchange specifically Frimpong's freak genetics. Seems like a pretty rad spot to be.
Pretty new to growing (first bean popped September) and I'm definitely enjoying the hobby and wanna continue learning so I can see some better results. Right now I'm running some Nightowl and got a Barney's LSD Auto finishing up.
Besides that I'm a PC gamer, Programmer (JS mainly though I'm kinda n00b & no dev job yet), Rapper, & maybe Graphic Designer if I knock that rust off ever. So if peeps are trying to play somethin or start a rap battle thread, i'm probably down lol.
The Autos as of a few days ago:
Shekinah is the bushy one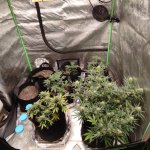 LSD Finishing up: