Looking @ the group of great chuckers we have here, I figured we wouldn't see too many Auto Flowers so I decided to make a log of the few that might find their way into my tent.
For starters I have a 54 day old ILGM OG Kush in a 5gal fabric pot with promix and perlite.
I don't normally grow autos and I definitely don't grow in dirt, so I think it's going pretty well so far.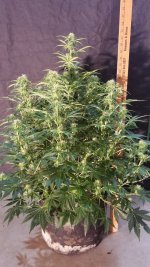 She still has a lot of growing to do, but based off her size I think I just might have a 1/2lb auto flower on my hands...Wouldn't that be something eh?
I've got a few more auto seeds left over from my first grow, so a new one may pop up every now and then.