I will post pics here that highlight the cultivars in my garden. From all of the breeders in the seed case. Some of them are here and I can tag them in my pics.
For the record....i forgot my password....i don't always wear socks and im not a F%$%ing puppet.
Where do you think that epic gummy recipe came from.
Now that that is cleared up
This way i can spam up my own shit. The frost factory is in full production and conditions are under control.
We begin with an esosseeds.com Albino Boogiemama. Grape Bubba X LVTK. 3k Meijiu board with 2 rows of 660nm far reds.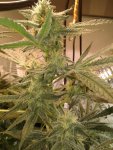 A HB skeleton cookies (BBC X Ghost OG) that is at day 58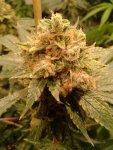 This was just too much for the balance of the universe....i pushed the half gallon too far and it erupted in a shift in the harmony of the universe.
It was the first time i kept one alive until the finish.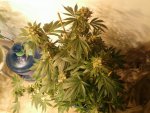 I vaped a couple of bags and cant remember what this is but it sure is pretty.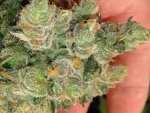 So as i update various flowering plants i will post them here.