Jesse Loves 2 Grow
Staff member
Moderator
Q-36 Space Modulator
This spotting has come about and I'm not sure the cause atm.
It's happening on a couple of plants.
All organic rols.
Haven't checked the soil ph yet, but watering is always set to about 6.2 or close to there.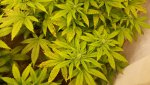 Primarily in the Altar Bread strain. 2.5 weeks into flower atm.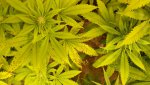 Thinking it's molybdenum being locked out, but not sure yet. Leaning towards the micro nute side of things being my issue.
Top dressed them a week or two ago with with some fresh mix. Bone meal, chicken poo, alfalfa meal, and seaweed.
It's the same mix all my other plants have gotten.
Hmmmm.......
Tell me your thoughts O' World of Cannabis lovers. Lol.