Hi all.
I'm .Smoke
The same one from another forum you all might frequent. Want to thank
@Gentlemancorpse
for letting me know about this site.
I hope to learn and help as much as I can, without all the drama you see other places.
Quick rundown.
I started growing in June 2019. I've never grown anything prior to that in my 40+ years.
I grow Dutch Bucket Hydroponics. (Some call it Hempy)
I have 2- 4'x8' tents and 1- 4'x4'. 2- 1000W hps, 2- 600W hps and a 315W CMH.
(Previous grow)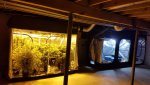 I'm about 3 weeks into my new grow and will be starting a journal here for it.
If anyone has any questions or comments, please feel free to chime in at any time.
Happy growing!
Last edited: