With my current nutrient stash getting low I want to try something new, I grow mostly with coco but I plan on utilizing an ebb and flow or DTW setup soon.
I want to get into mixing my own nutrients using a calculator or simply attempting to copy tried and true N-P-K values from nutrient companies.
I believe I will be able to save money in the long run and would like to ask if anybody here as any insight they could provide or maybe point me in the right direction.
I found a chart online that I used to take my ingredients from.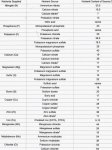 This was posted almost a decade ago but I doubt much has changed.
One thing I noticed is that there is now an abundance of chelated versions of these nutrients, most of which I hope to use.
Here's what I have so far.
Macros:
Nitrogen
Phosphorus
Potassium
Calcium
Magnesium
and the micros:
Manganese
Boron
Zinc
Copper
Molybdate
Sulfur
Following the chart I plan on purchasing the following.
Calcium Nitrate (Nitrogen)(Calcium)
Monopotassium Phosphate (Phosphorus)(Potassium)
Magnesium Sulfate (Magnesium)(Sulfur)
Boric acid (Boron)
Iron chelate (Iron)
Manganese chelate (Manganese)
Copper chelate (Copper)
Zinc chelate (Zinc)
Sodium molybdate (Molybdenum)
I'll add more onto this as I go along.