So, I figured I had better start a grow journal now that my rooms are finished and running!! Bud room is 8x8 and veg is 6'7"x8. I'm currently under powered on lights, but I will slowly add to them. Plants were getting out of control so I had to get them in flower. Two 315 cmh with a cheap, Marshydro LED....I think 100 actual watts. From my figures, I have around 30 watts/sqft (just the 8x3
, not the whole room!).
The flower room has Brainstorm, Forest Dream and Glueberry OG all from Dutch Passion in Amsterdam. These were seeds that I had purchased before I did research and found local breeders....another reason they were thrown into flower....using them as a practice run since this is my first ever indoor grow through flowering. The tall lanky one in the middle is Durban Poinson. This came from seeds that I found in a bag of DP, grew them outside last year and one girl had one bean! She's going to be the problem one with as tall as she is?.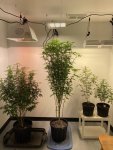 Nutrients are Biothrive bloom with Zen Products Calmagnon, Molashish and Zen Strength(silica). At three weeks in, according to Zen, I will drop the molashish and switch to Candyman....a terp builder. Being this is my first run, I'm going to stick to their feed schedule/regimen and adjust from there.
The veg/mom room. I have Lemon Venom, Orange Sherbet and Wedding Cake....clones I got from Overgrow Solutions when I did a clone class. I also have a Frisian Duck from Dutch Passion and four Lift Ticket plants from Swamp Donkey seeds.....one of these will be in the 420 contest....just waiting on sex!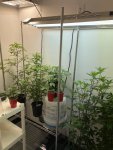 The one I hope is a female for the contest! I numbered them by first tail and vigor when they popped.This was #1 of 5 and it is nice and full! The other lift tickets are somewhat stretchy.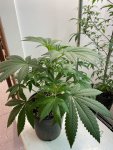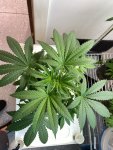 Here are the other three. Sadly, number four didn't break dirt, so we only have 1, 2, 3, and 5.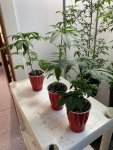 Thanks for peaking and hopefully I will be able to keep this somewhat updated. Life is busy and this is a "hobby" I've wanted to do for a longtime and jumped in up to my neck!