Alright, starting up this journal mid grow being I'm new to the site. Thanks for helping me with naming this journal Jewels lol...
This grow was my first time running 1 gal fabric pots of coco. I did the last run in rockwool and liked it a lot but wanted to try coco, so here I am.
16 Plants, 7x7 canopy in an 8x8 room. 5 strains, There Is 9 platinum cookies, 3 dragon cheese, 2 violator kush, 1 pre 98 Bubba, and 1 lavanda cream.
This crop was vegged for exactly 4 weeks from planting in the fabric pots until flip. Currently fertigating 4 times during the light cycle, half hour past lights on and every 3 hrs after. I'm using Botanicare nutrients along with beneficial bacteria and trichoderma, and doing a light maintenance flush with enzymes once a week. Right now feed is about 80/20 pbp grow and pbp soil bloom, with calcium silicate and potassium silicate. EC 1.3 ph 5.8-6 Last pic was a few days ago at day 17 flower. Today is day 21.
That's it for now, Mothers day today so I gotta go pamper the wife lol. Questions or comments, fire away. Enjoy the show!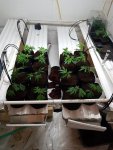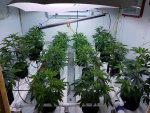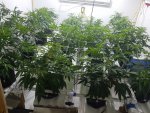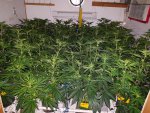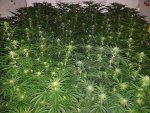 Last edited: