Green Crack S1 BX1 - Schwaggy Seeds - @Schwaggy P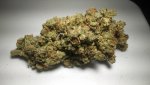 - Appearance –
Clustered flower buds stacked all over. Potential heavy yielder; this plant was smaller but it yielded more than some plants twice its size. Trichomes are not glistening, but more of a "fuzzy putty" type of consistency
- Bouquet –
Started a bit myrcene-mango early after chop, but that smell gave way quickly to something very different. Astringent, vinegar, garlicky (but not straight garlic), tanned hide, not quite leather but maybe from a skunk? Also a sweet and sour Granny Smith apple backend. This is a different pheno of Green Crack that we are not used to (which is heavily myrcene/mango; I believe it's aka "Cush" with a "C"). Nevertheless, very unique and "ooh
wtf
" on the whiffs.
- Dry Hit (Joint) –
The tanned hide comes through with a hint of garlic and lime. The dry hit alone would be paired nicely with some grilled meat tacos
- Smoke –
Medium-heavy, smooth. Slightly sour & sweet herbs. A tiny bit of bite on the dragon breath.
- Effect –
Heady. Energized. Clear. Functional. Cuts right through from the last strain's high. Not a devastating stone, very good for doing the dailies.