Jesse Loves 2 Grow
Staff member
Moderator
Q-36 Space Modulator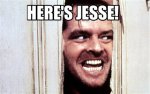 Awesomesauce to be here with y'all.
Love seeing all the Growmies. ???
Went with a new handle for the new spot, but still the same ol' Jesse here.
I used to like growing. ???
Not so much any more.
It kinda grew on me after awhile. ???
I Love it now.
I do still like to Post alot too. ???
Love reading about all the good stuff all y'all have growing on.