I will be trading some of my B.O.G seeds here.
Current supply. ALL REGULAR SEEDS.
Sour Boggle X 7
Sour Strawberry X 7
Sour Grape x 6
Sour Blutooth x 6
Post what You have to trade and we'll see what we can work out
(Looking for Sativa Dom Strains, LOVE Diesels !!)
I'll be including random freebies with every trade!
Also don't worry if you don't get in this round i'll be buying another round of B.O.G Stuff next month!!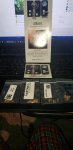 Last edited: