So...I had these healthy stinky thriving little plants...then my dumbass got a bright idea they needed my super foliar feed I usually hit seedling with and they like it...the MoonMouses did not like it...they wilted over, locked up, pissed off and hateful...so I transplanted and gave them some tea yesterday...today they seem happy again....maybe I messed up the mix being distracted or something, I don't know...but they seem happy now.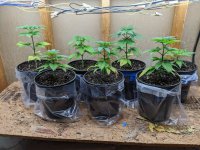 Don't you love the hanging wire mess from the master electrician?
Fuck I should be embarrassed!
Just put the cover on the troffer already!