This will be my journal.
This is a "wet" establishment and drinking is not only encouraged, but I'm buying..................whuddyawant?
My large tent is a 32x60x80 inches, I also have a 3x3 ft.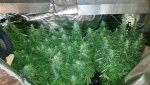 That's some lemon haze from days gone by. I have a few left in that tent now, but tent has had an ongoing a pm problem. I expect to tear it all down this weekend and renovate and clean the hell out of it.