I was turned on to tinctures...they help me get through the day and a good nite of sleep. Soak your buds in everclear and then evap it off or straight into bottles. Well im sick of the taste of everclear. And it tastes like SHIT....so i have been looking at this machine a while.
In Canada legal is rosin and bubble hash....and this machine. A closed loup ethanol extraction machine.
Soak buds in everclear (i froze the buds and the everclear overnight)
Filter off some everclear...the crucible holds 300ml
put it in the cruicible and start the machine.
there is a flat cake pan thing that sits on top of it you can fill with ice to help speed up the evap...this works GREAT because i didnt figure out what it was for until later !
The end result...300ml recaptured in a measuring cup 280ml of pure clean everclear. And whatever is on this sheet.. it is tincture runny at first and you have to spread it around and move it. When its ready...wow does it work.
Everclear costs me 60 dollars CDN 48 USD for 1 fifth....crazy shit eh. Illegal in my province so high taxes and fancy shipping. This machine will pay for itself in 1 year in the savings of Everclear !
Bazooka blast 50 grams in a 1 quart jar with 750ml of everclear. But it only holds 300ml so the rest i run tomorrow.
Smells like everything GREAT about bazooka blast...powerful bubblegum terps..OMG so good....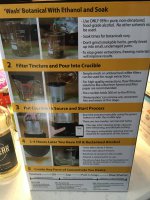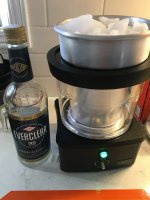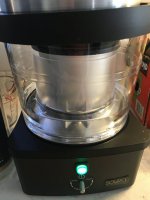 View attachment IMG_3915.MOV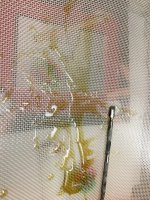 It is expensive but i am going to REALLY use this. I might not need the rosin press soon.