Here's the current line-up
Heisenbeans testers: Lemon Tree S1, Sundae Driver x Dosi Dos, Gelato33 x Dosi Dos, Wedding Cake x Dosi Dos, Sundae Driver x Lemon Tree
and a little cloned top that was 12/12 from start (sexing)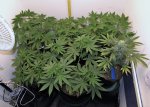 5 Sacred Lotus from County Line Genetics - one is the sister to the cloned top in the other room, but vegged instead of sexed.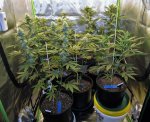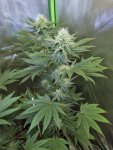 And the lineup of babies.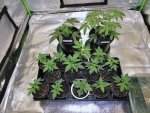 2 in the back are Dank Sinatra F4. The white cups are fems (lvtk s1 by eso, and Cheap Thrills by Cannaventure) and a handfull of each set of regs.