I will be using this thread as a place to show what I am currently growing as well as some previous grows. Hopefully somebody will find the info helpful or at least entertaining.
Let's start with what I have grown over the past year or so. First up is some SkunkyVA from
@Schwaggy P
. I considered posting something like a full journal for these past grows but I will spare everyone the boring veg shots unless there is something interesting to be seen.
I originally started with six seedlings but lost two to stem rot. Of the remaining four, three were female. The lone male was culled and here are the females at day 19 just before a defoliation.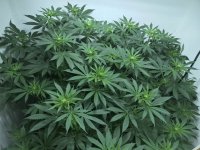 And at day 21 after the defoliation.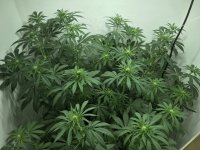 Here they are right before harvest.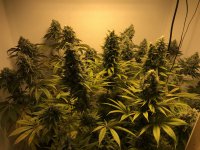 Everything went really easy with these plants. They continued to grow like crazy and never broke a sweat when I upped their fertilization levels. I ended up with three distinct phenos, plant #1 with extremely dense light green buds (my favorite), plant #2 with dense buds and a sweet berry smell and flavor, and plant #3 with not so dense buds and an acrid smell, it made my eyes water while trimming, this was my least favorite of them. I wish I had a clone of #1 but I wasn't set up for that at the time. I did however hit that plant with some pollen from a Shoreline BX male I had grown previously and got quite a lot of seeds, well over 400. I forgot to record the exact weights from each plant after drying and curing but they each produced over 5oz a piece and netted me just over a pound, not bad for three plants in a small closet. If anyone is looking for a quality plant that will throw some weight I wouldn't hesitate to recommend the SkunkyVA.
Last edited: