All comments are welcomed!
Hi all.
I'm a newish grower, started back in June 2019. I began growing because I quit alcohol after 20 years but still needed something for PTSD (combat veteran).
I got sick of waiting for "my guy" to show up when he wanted, only to charge me $300 for an ounce of mediocre cannabis.
I dont have the option to go to a dispensary where I live, so I started growing for myself.
Now to the good part...
My grow room is a 25'x40' section of my basement.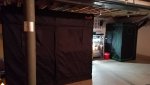 I grow using Dutch bucket hydroponics (hempy), currently using converted 10 gallon totes with a 70/30 perlite/vermiculite mix.
The buckets are sub-irrigated fed with a feed mixture I concocted using the new 1 part Megacrop and a Lucas Formula mix that is a single concentration full cycle feed with RO water. Feeding and drainage are fully automated with the waste being pumped out my sewer line.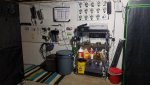 I'm currently running my 4'x8' Gorilla tent for flower. It has 2 fem/photo white widows from ILGM in it under a 1000W hps in a Sun System xxxl magnum low profile hood.
The plants are day 29 and 3, with 5/7 weeks of veg time.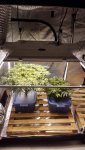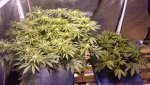 There is also another 1000w hps in a Sun System yield master in there waiting for more plants to arrive.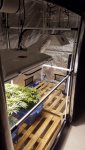 That tent is cooled using 2- 8" 720cfm exhaust fans that exhaust to another section of my basement.
For my veg I'm now using my Vivosun 4'x4' tent. In it currently is my 315w cmh with the 3100k Phillips bulb. It's also in a Yield Master with a 6" 440cfm exhaust that is wyed into the outlet exhaust for my clothes dryer exiting outdoors.
In it currently is a 4 week old Granddaddy Purple, and in the 5 gallons of dirt is a few day old auto OG Kush that will stay in this tent.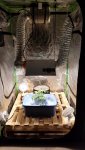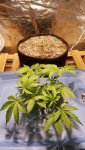 Here's how my environment currently is.
On the bottom row...
#1= flower tent #2= ambient room #3= veg tent.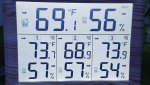 I'm waiting for the GDP to get a little bigger and then she'll get flipped. I also have a gorilla glue seed in water germinating, and I'm waiting on some Gelato seeds from Nirvana to arrive that I plan to pop asap. Got a lot going on atm.
Well,
I managed to write a novel. I hope you made it through without too much suffering.
I like to update my journal often and love answering questions, so I plan to be back often.
Later all ?
Last edited: