Hey all, Figured id start a journal here for my current random grow. Every now and then I take some time to look through my old seed stock of freebies and randoms. Don't laugh, a lot of these strains aren't the latest greatest newest hottest over wanked varieties everyone likes to see, but that's mostly why they've sat in storage for so long. This time I decided to run the following
Critical Bilbo (freebie)
Nepal Jam (ACE)
Misty Kush (Nirvana)
Kali Mist (Serious)
Orange Creme (Grower in Oregon)
The setup I use in this 2x4 tent is 5gallon DWC, Mars Hydro TSL2000 and botanicare grow and bloom. When running reg seeds I try to put 8 sprouts in to end up with 4 girls, sometimes this works...
Nepal Jam was all males, but one very short stocky Nepal leaning expression gave enough of a good impression for me to do a little chucking. He was isolated, harvested for pollen and then sent to compost bay 1. pic was taken after he had a few days of darkness and stretched out a lot.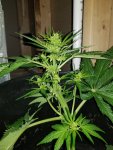 This left the random tent with 4 females, Critical Bilbo on the left in its own 5 gallon, Kali Mist, Orange Creme and Misty Kush all packed into another 5 gallon on the right.
here they were on 8/27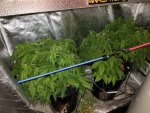 and here the are a few days ago
Critical Bilbo is a monster of a plant, 2 ft tall and 2 ft wide. I probably should have defoliated a bit more, crazy amount of thick pistils. Terps are a bit hashy and chocolaty so far, but trich production isnt great.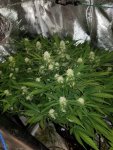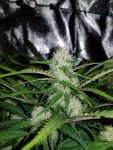 Orange Creme is the stretcher of the group. Smell is citrus and meh, I don't have a whole lot of high expectations here.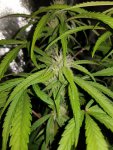 Kali mist just started flowering in comparrison so ill wait few weeks before really talking about it.
Misty Kush is.. well... just what I would expect from most any Nirvana strains.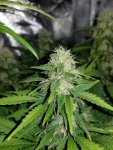 Everybody got a taste of Nepal Jam's Wang Dust. If anything, the seeds will just become something I have to fit into the random tent rotation cycle
until next time.