Giving the grow journal thing a try.
Took advantage of the start of the monsoons, and just popped two Twenty20 Snow G Autoflower seeds this week - directly in 5gal Rainscience bags filled with Happy Frog. Everything will be happening outdoors in the AZ desert. I'm very much a novice, but am planning a little LST, and will incorporate some silica as well as Mycorrhizae and some home ferments along the way...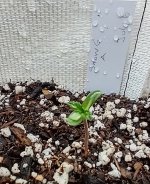 Really looking forward to seeing how these babies do!!!