Anyone ever ran this feed chart?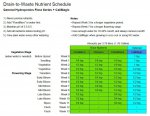 It's the base suggested chart from growweedeasy.
I mixed up a batch of the weeks 5-6 rate and was shocked to see ppm was only 380 with the added Calimagic.
That's great for me. I'm dealing with an overfeeding issue atm, but that seems pretty low still.
Was just wondering if anyone had any experience with it?