Welcome to the
swAmp
!
For those who don't know me, I'm .Smoke.
You may have seen me in one of my previous Hempy growing adventures.
Classics like, "The .Smoke Shack", "Is this potassium deficiency or nutrient burn?", "The Primate Sanctuary (Gorilla Glue Crosses)", or one of my personal favorites, the low budget blockbuster success..."$10 DIY High CFM Kit and Clip Fan Hack".
Continuing on with the antics, I've now created "swAmp Hydroponics"
(trademark application submitted 11/30/2020)
with one sole purpose in mind....to make growing easier, and therefore a more enjoyable experience for us all by creating a more "user friendly" style of hydroponics growing.
I have a system I've been brainstorming, developing and testing for the last few months called the "swAmp Bucket". The intent was to take the best of DWC/DTW/E&F, while eliminating each "problem" the individual systems are prone to.
The swAmp system, utilities a 100% L.E.C.A media in a normal hydroponic feed solution typical of DWC/RDWC systems, but requires no recirculating of the water or added air pumps/stones. In fact, besides the few minutes a day your feed pump is running, the system is 100% silent, passive and requires no electricity. It features quick connect fittings for the 1/4" od feed and 3/8" od drain lines. An "easy feed" clone/seedling planting process, and individual portable sites that can be run as a single site or multi-site system, capable of being "plugged in" to your current DTW system, or used as a standalone/multi-site "swAmp System". All while avoiding the clogs or "nutrient leeching" issues typical of current DTW systems.
That's the great thing. There are many different ways the system can be controlled, connected and used. Giving each grower the ability to modify and adjust the system to their own personal needs.
I will contine to further develop and test the swAmp system and method, along with other gadgets and gizmos here in the thread.
When I'm 100% satisfied with the quality and development of the system (soon), I would like to offer to send a few out to any growers who might be interested in helping to test and critique the sites for me by journaling a grow of their own.
Anyone willing to help here @ swAmp Hydroponics, will automatically have their "Grower Name" added to a special "Shout Out" section of the packaging or manual of the finished products they helped to test!
My purpose is simple. Try and make growing easier for us all. So, along with my crazy ideas, I'd love to hear yours.
Like, what's that one pet peeve you have that if you, "just had the right thing" your problems would be solved?
The kind of little things that you never knew were bothering you until they were gone or fixed? (Clip fans.
You all know what I'm talking about... I have something in the works to keep them "in place" atm too.)
If you have any ideas, issues, problems you need a "fix" for, or are ever interested in being a "Guinea Pig" and want to test an item you see, please reach out here or @
swamphydroponics@gmail.com
And we'll make it happen.
Enough for now.
I'll be introducing the swAmp Bucket with a detailed explanation hopefully in the next few days.
In the mean time, here's a glimpse of a couple monster cropped clones that have been in some S1 prototype buckets for a little over a month...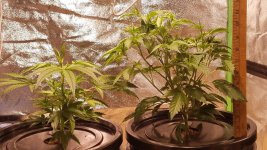 Another plant was culled so the root system could be inspected for signs of rot.
Happy to say all is healthy.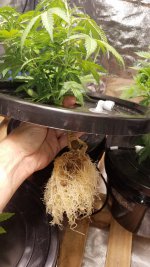 More to come soon @swamphydroponics!
.Smoke
Last edited: