Hello everyone,
I'll be showcasing a personal chuck I made a while back using a Sunny D OG female from
@thenotsoesoteric
and a male Sin City Juice by
@HydroRed
The SunnyD OG mother was a super sturdy, compact, and strong growing girl. She had a citrus flavor profile and smoked quite well. The Sin City Juice male was OG dominant all day long, he grew lengthy and tall. Musky on the stems. He was the most vigorous grower out of the group. I brought the pairing together hoping to round out the growth structure of the progeny. I thought it would be nice to reign in that OG structure of the father and add some common nodal spacing to the super dense Tangerine Power dominant female.
Here's a dendrogram I created to show the lineage: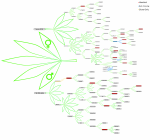 Accuracy is base off of as much research I could find throughout the interwebs. You can see this cross has a lot to it and you might need to zoom in to get full details.
I have this little alcove around my Bordello that I like to use for making seeds outdoors once a year. Here's a look under the sheets: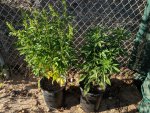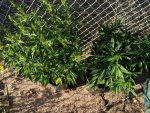 Leaf Expressions: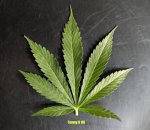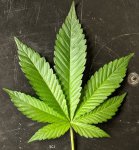 I was able to make a decent amount of seed and have since been messing around with them for about a year. I was able to pop a few here and there to do some internal testing. The beans are viable and the first half dozen I move into flower were all males. Once spring hit I was able to get a row of 15 up and running. I culled the weaker ones after about a month leaving ten or so.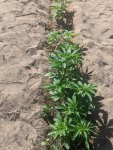 After another couple of weeks, I was able to make selections down to 3: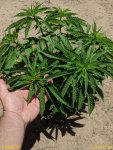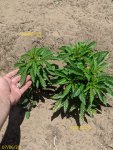 I played hell getting these things cloned out and moved indoors under lights in this summer heat. I was able to get both 1 and 2 rooted and vegging a few weeks ago. In the meantime, I was able to sex these rooted cuts out using the mother outside. They all have since been removed.
#1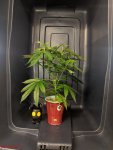 She smells of citrus and is very loud. Her growth structure is very consistent and she has strong stalks. She also bushes out really well when topped and is my personal favorite throughout the process.
#2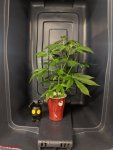 More of an OG leaner when it comes to the structure. Best and most vigorous grower out of the whole group. Smells of rot, shit, and earth. Pretty loud in general.
I do have a cut of the #3 in the cloner as I post this. No roots yet. It may or may not make it into the flower tent at some point, we'll see. The plan is to move these into my indoor flower tent in a few weeks and finally get some flowers going out of this chuck. Both parents were stable testers, but we'll keep an eye on these girls since it's their first time. It should be fun!