Going to have a little contest. This will be a pick a number contest.........1 to 1000. What's offered is a pack of Pink Lotus f4's. These went from Bodhi, to Useful, to Bionic Chronic to me. I am hunting this line for a cotton candy terp that I found in one. I had one male and 3 females for this pollination. I chose the male based on vigor,structure, height, and red petioles. I'm going to be hunting these same beans myself.
Pink Lotus = Pink Panther x Snow Lotus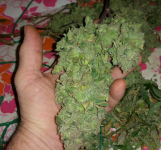 So...........quote this post and pick any number from 1- 1000. I have already selected the number and pm'd it to a trusted member here. So the die is cast......lol. A little hint (or not) the number I picked was the bean count from the #3. Good Luck!
The 10 closest picks all win a 12 pack. This contest is open worldwide! If you get mail, you can play. No tracking, it will arrive as a birthday card.
Will pick winners in 1 week
noon EST on the 18th