I'll admit it. Like some other things that can happen in life, this was unplanned.
On my last order of FEM seeds, the breeder was apparently nice enough to toss in at least 1 Green Crack male that I did not catch in time before he had his way with a few of my ladies...I caught him soon enough, but the damage was done.
As a result, I am now the proud poppa of what I'm calling Aqua Berry Glue.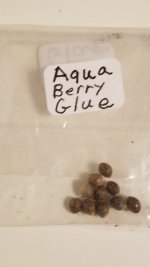 Dad= Green Crack
Mom= Glueberry (Blueberry x GG4)
I dropped one today. Should be an interesting ride. I've never intentionally grown anything other than FEM seeds, so this should be fun.
I'll be keeping a much closer eye on the tents from this point forward, and will update accordingly.