Didn't know where else to put it; but I am going to say it is a thing.
Tonight, curiosity got the best of me and I shucked one out.
Seed
Cannabis
This is
(Blood Orange Tangie x Sour tangie) X (Romulan x Blueberry)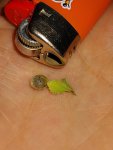 First question
- Do seeds shrink ?
Cause, like, I have never really done this before and golly, that is a whopper. Maybe not like
@Keif Lint
Horse pills, yet certainly bigger than the seeds I planted to grow them.
The branch was dusted four weeks ago, I expected a greener seed.
I plan on leaving them sit in the buds until harvest ( 2, 3 weeks)
-Can you look at this seed and know that it is mature?
Or is that simply a function of time?