Basement Blendz
Fishin' Mod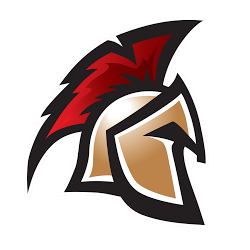 Hi guys I'm Mim. I'm 32 and I like to grow the trees. I love taking pics and sharing what I see, how I see it. Follow along if ya like
Well I'm not too sure where to begin, so I'll just jump right into the stuff I have going on currently. I'm sure I'll catch up backstories on everything eventually but it seems a little overwhelming right now.
Here is my first intentional cross of Exotic Genetics "Vanilla Gorilla" female (my current longest running keeper) x Humboldt Seed Company's " AK47". She reeks of fowl chemmy berries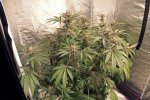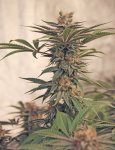 This is my second Intentional cross of my Vanilla Gorilla female with Dirty Water Organic's " Star Stomper" male. She has been a pretty happy camper so far, and this is my first time flowering her out. She's the tall one in the middle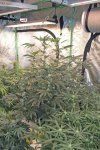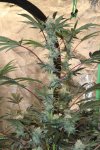 Hazeman Seeds "Astro Kush" in 5 gal DWC . Second run with this cut, she puts up some delicious sprite-ish sour chunks and seems to handle stress pretty well.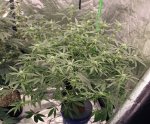 Bodhi " Love Triangle" just blowing my mind in a 5 gal DWC. I have stressed this plant like crazy and she hasn't slowed down one bit. She went 2 days with a completely pinched air line and never stopped praying. My res is anything but sterile and idk how we survived! Blessed are the bodhi's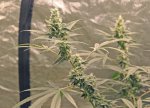 I have a handful of cuts in the stable currently and just did a decent size bean pop. Of all the new stuff coming up I'm most excited about the AK Bean Brains Hawaiian Catpiss V3 seedling that came up with the quickness and started praying instantly.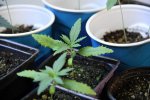 and last but not least the newest addition and my first ever clone that I accepted from another gardener. It is a 20 year old hoarded cut of "blackberry". I was gifted the cut with a sample of the bud that was grown without much love and it was the tastiest berriest thing I have ever came across. I am going to make her the base of my next breeding project and can't wait to see what we get.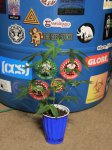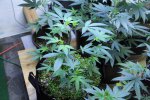 That brings us up to speed sorta ... I usually take pics of stuff nightly so eventually the journal will be all caught up. Thanks for stopping by!